Pervious Concrete, Inc.
Michael Bledsoe (President)
206-940-8900 (Mobile)
425-308-5555 (Office)
206-525-2800 (Fax)
mbledsoe@perviouscrete.com
Craig Morrison (Founder)
425-359-1000 (Mobile)
425-308-5555 (Office)
360-668-6161 (Fax)
cmorrison@perviouscrete.com
Pervious Concrete, Inc.
P.O. Box 1579
Snohomish,
WA 98291-1579
Stratford Place
Stratford Place is a 20 lot housing development constructed in 2006 in Sultan, WA. It is the first such development in the Northwest to utilize pervious concrete for streets, sidewalks, and driveways.
This project won the Excellence in Concrete Award in 2006 from the Washington Aggregates and Concrete Association (WACA).
It has endured snow storms, freezing, and a several 50 year rain storm events and flooding.
This photo album shows the process of a pervious concrete driveway pour at Stratford Place, a 20-lot plat in the City of Sultan, WA (built with an entire pervious stormwater management system).

Entrance drive with colored sidewalks

Close up of colored sidewalks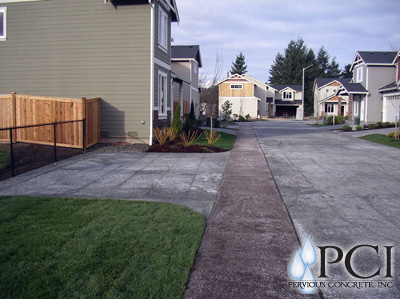 Street view with colored sidewalks and parking

Pervious has to be poured very dry. It's not unusual to have to pull the material down the shoot.

Placing pervious demands an experienced team. Note the coarse rock base that handles water after it passes through the pervious.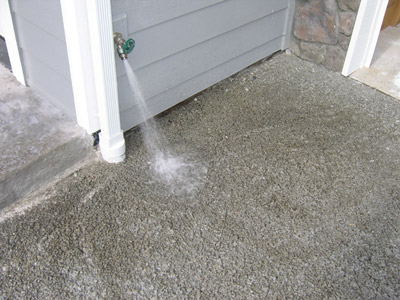 Properly placed, pervious can handle 200+ inches of water per hour.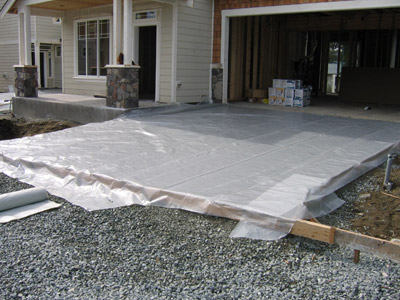 Covered curing for 7 days is essential.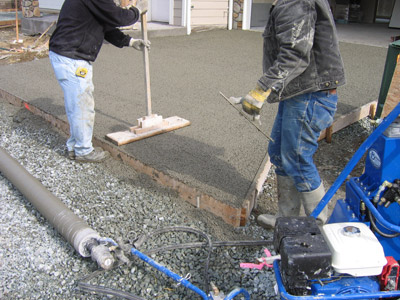 Pervious shouldn't be handled too much during finishing.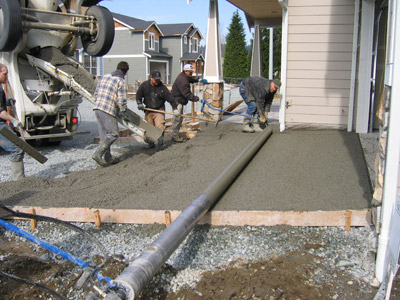 When screeting pervious, use a method that both screeds and compacts the surface.

When placing pervious, do not over work the mix.

When placing pervious, some finish hand tamping and rollering smoothes out surfaces.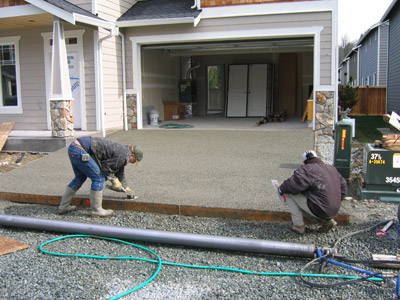 When edging pervious, tamp and set edgers; traditional troweling creams over voids.